Posted:
December 22nd, 2009 |
Author:
junko
|
Filed under:
cooking
|
No Comments »
Have you tried ramen in Japanese restaurants?  Yes? Then you have seen sliced meat as one of toppings. That is "Chashu (叉焼)".  "Chashu" is explained like this in wikipedia.


"Char siu" literally means "fork burn/roast" after the traditional cooking method for the dish: long strips of seasoned boneless pork are skewered with long forks and placed in a covered oven or over a fire. The meat, typically a shoulder cut of domestic pork, is seasoned with a mixture of honey, five-spice powder, fermented tofu, dark soy sauce, hoisin sauce, red food colouring and sherry or rice wine.


This is my "Chashu".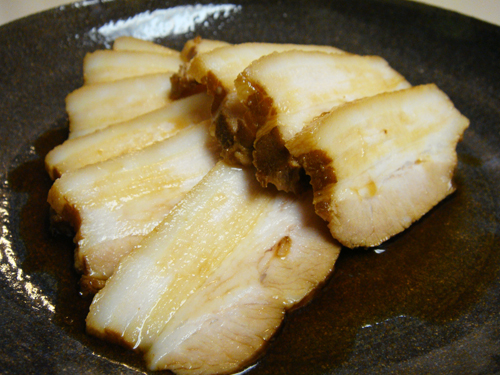 My "Chashu" is not roasted pork, it's boiled.  So technically, I should call my dish "Boiled Pork Belly". Anyway, this dish is very easy and it takes only 20 minutes.  It can be served cold or hot.


[ingredients]
chunk of pork belly     1.5lb
for seasonings
water     1/2 cup
sake 1/2 cup
sugar 1 Tbs
garlic 5 cloves (crushed)
ginger 1 small (about 2 in.), sliced
soy sauce     1 cup


[how to do it]
Mix water, sake, sugar, garlic and ginger altogether in a pot, ideally iron cast cookware.  Place the pork chunk in it.
Cover the pot and bring to boil then simmer for 10 minutes.  After that, add soy sauce, cover and simmer for 5 minutes.
Turn off the stove and leave it for a while.
When using iron cast cookware, cooking time is as I wrote. When using non-iron cast cookware, add couple of minutes more each steps.


Many ways to use "Chashu". It can be "Chashu Bowl", one of the ingredients for spring rolls, etc… Enjoy!!





---