Posted:
February 25th, 2010 |
Author:
junko
|
Filed under:
baking
,
desserts & pastries
|
2 Comments »
Today's biscotti has rich dark chocolate and granola. It is one bite size if your mouth is big, maybe 2 bites for girls.
Dip it in the green tea and enjoy!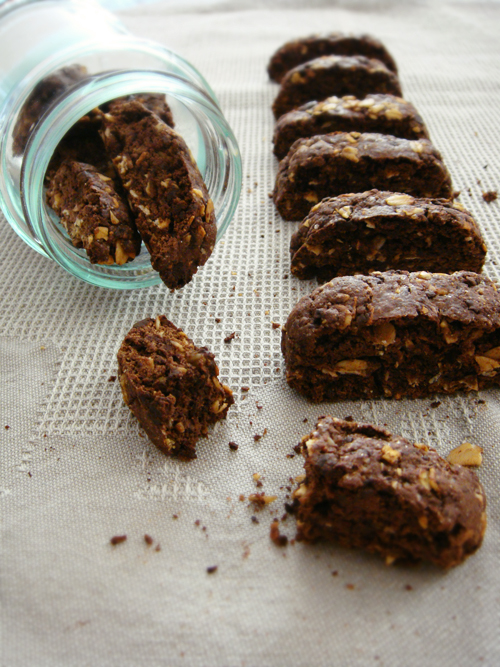 [ingredients]
pastry flour     80 g
cocoa powder     20 g
baking powder     3/4 tsp
cane sugar     60 g
egg     1 (beaten)
chocolate (85% cacao)     100 g (cut into small pieces)
granola     50 g


[how to do it]
pre-heat oven to 356 °F.  combine flour, cocoa powder and baking powder and sift.  Add sugar and mix well.
Add egg in the bow of flour mix (1) and mix again by using spatula or hand.  Add chocolate and granola at once  and mix so that  chocolate and granola spread evenly.  Make one dough.
divide the dough into halves.  place the doughs on the baking sheet.  form long ovals.  (2.5 in x 7.5 in)
bake about 20 minutes and take out from the oven and slice them.  place them back on the baking sheet with enough space between them.  reduce the heat to 300 °F and bake about an half hour.


ビスコッティを作りました。こういうのは買って食べるものとず〜っと思っていましたが、なんせアメリカのスイーツは甘すぎて、時にはいやになるぐらい甘くて、自分で作ることにしました。自分で作ると甘さ加減も、大きさもどうにでもなるんで・・・。おまけにすごいストレス発散になります。
うちのクマさんは食後に「何か甘いものない〜?」と聞く事が多いので、こういう焼き菓子はストックしておくと便利。ちなみに彼は緑茶に浸して食べるのが好きです。私は煎餅をお茶に浸すのがスキ。今度は煎餅を作るか!
レシピに限らず説明文を英語で書くのは難しい。これでええんやろうかと思いながらだけど、これも勉強!と言い聞かせがんばろ。
---