Posted:
April 7th, 2010 |
Author:
junko
|
Filed under:
desserts & pastries
,
fruits
|
No Comments »
It's not that easy to use up all the vegetable and fruits before they get old. Sometimes it's because they are in the back of the fridge and can't be seen, sometimes we just forget… I feel terrible when I have to put them in the garbage bag. So I try not to waste, meaning cook/bake things.
Recently my husband said "I'm getting chubby." Oh-oh…I knew it!! I am sorry, my husband. But I had to use nectarines and cream cheese which I found in the fridge this time. So I made nectarine mousse. Left-overs turned into dessert!! It's very light & smooth texture. And not that much sugar as usual. Does it help?


NOTES
[ingredients]
nectarines 2
cream cheese 115g(soften)
yogurt 150g
sugar 15g
lemon juice 1 Tbs
gelatin 3g
water 15ml(for gelatin)
[how to do it]
dissolve gelatin by pouring water and set aside.
put sugar in the lemon juice, so that sugar melt in it. add it to yogurt.
put small-cut nectarines in the food processor to puree. add yogurt and mix well.
make cream cheese smooth by whisking. add nectarine yogurt mixture into it. mix well.
microwave the gelatin for 5 – 10 seconds (Don't make it hot). add the liquid gelatin into #4 and mix.
pour the mixture in the small glass cups or cocottes and store in the fridge for a few hours.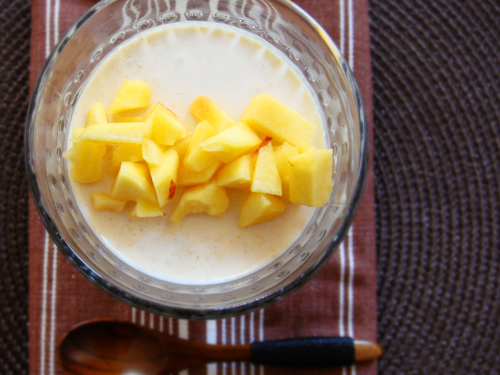 冷蔵庫の整理で見つけた『そろそろ潮時』達を使ってネクタリンのムースを作ってみました。ってこんな具合に作っていると、私のストレス発散にはなるけど、うちのクマさんが最近『太った。』とボソっとつぶやきました。それでイカンイカンと思って、結構がまんして作らない日もあるんです。ホントはジャンボサイズのチョコマフィンとかデコレーションばっちりのカップケーキとか作りてぇ〜と思ったりもしているんだけど・・・。毎日パン焼いたり、お菓子作ってる人は家族の人が毎日食べてくれているんだろうか?
ブログなんかで毎日のように美味しいものを紹介しておられる方々!ご家族の皆さんは太りませんか??


覚え書き
[材料]
ネクタリン 2個
クリームチーズ 115g(冷蔵庫から出して柔らかくしておく。またはレンジに約10秒かけて柔らかくする)
ヨーグルト 150g(水切りはしない)
砂糖 15g
レモン汁 大さじ1
粉ゼラチン 3g
水 15ml(ゼラチン用)
[作り方]
粉ゼラチンに水を加えふやかしておく。
レモン汁に砂糖を入れて溶かし、ヨーグルトに加え混ぜておく。
フードプロセッサーにネクタリンを小さく切って入れ、ピューレ状にする。続けてヨーグルトを入れしっかり混ぜる。
柔らかくしておいたクリームチーズを泡立て器でクリーム状になるまで混ぜ、3と混ぜ合わせる。
ふやかしたゼラチンを5〜10秒レンジにかけ(沸騰させないよう注意)液状にしてから4に入れて混ぜる。
容器に入れて冷蔵庫で2〜3時間冷やす。
---