Posted:
April 15th, 2010 |
Author:
junko
|
Filed under:
chitchat
|
2 Comments »
My mother sometimes gets diet information and calls me from Japan. It was "olive oil diet" one time. And it was "banana diet" some other time.
This time, as you see in the title, it is "kuromame (black bean) diet". Just eat kuromames(70 grams) everyday. That's all. No need to skip any meals.
It is usually said food which has black color (for example, black sesame, seaweed and etc) has health benefits. Black beans help smooth blood circulation, control body fat and high blood pressure. And girls! Black beans are good for our skin too. So I've just started eating them. I hope they help my fat go away and also my skin get better.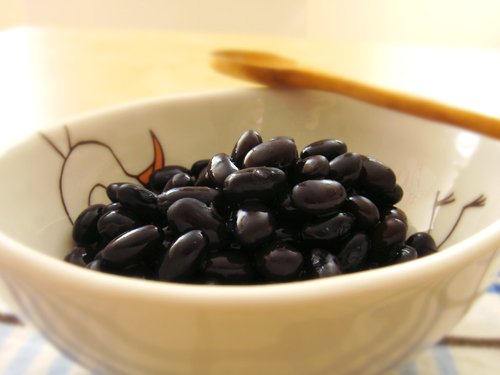 私の母は時々ダイエットネタを仕入れては電話をしてきます。元々大食漢な私に食事を抜くとか、一食分をダイエット用の飲み物にしたりといったダイエットなど無理な話で、今回のは
「食べればいいのよ。」
らしいです。一日に70グラムを食べて、後は普通に食事をするだけだとか。簡単だし豆好きなので、乗せられて日々70グラム食べています。美容にもいいのよ〜とのことなので、どっちかっていうとそれ狙いで。効果のほどは数ヶ月後に・・・。
---