Posted:
November 3rd, 2010 |
Author:
junko
|
Filed under:
cooking
,
side dish
,
veggies
|
No Comments »
Salads or very simple dishes like marinated vegetables do the great job during the meal. They are just side dishes, but NOT just side dishes. They help you with fresh eating experience.
I made watercress and gobo salad. Lime flavor gave me good appetite.
NOTES
[ ingredients for 1 ]
watercress 1 bunch
gobo (thin sliced and cooked in hot water) a little bit
walnuts 10g
olive oil 1Tbs
garlic 1 small clove(grated)
salt pinch
honey 1/5 tsp
lime small size 1/2 (squeeze)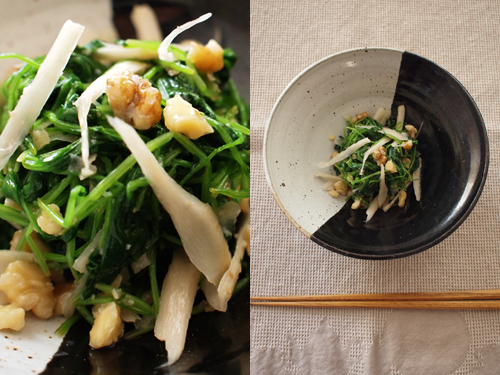 箸休めのクレソンとゴボウの和え物。
さっぱりした酢の物とか、漬け物って食事の時に出てくるとやっぱりエエな。上手い具合に食欲に働きかけてくれます。
覚え書き
[ 材料 一人分 ]
クレソン 1束
ゴボウ ささがきして茹でたもの少々
クルミ 10g
オリーブオイル 大さじ1
にんにくすりおろし 一かけ(小さいもの)
塩 少々
ハチミツ 小さじ 1/5
ライム絞り汁 小さいサイズ1/2コ分
---