Posted:
November 7th, 2010 |
Author:
junko
|
Filed under:
cooking
|
No Comments »
When I am lazy, I cook pasta and sprinkle pink salt, black pepper and Parmesan cheese, add herbs sometimes. Although it's not that bad for quick lazy pasta, I can't eat it everyday. I don't want to feel like I am a very lazy person. So I try to make something decent even I am lazy. Wow, how many times did I say "lazy" so far?
Anyway I made quick and still decent pasta for lunch. 15 minutes cooking!
NOTES
[ ingredients for 1 ]
spaghetti
mini tomatoes 10 – 12 pieces (cut them in halves)
capers 1 Tbs
garlic 1 (sliced)
red pepper 1
chicken stock (or vegetable stock or pasta cooking water)
olive oil 1 Tbs
[ how to do it ]
Start boiling water and cook spaghetti to al dente. Meanwhile make tomato sauce. Combine olive oil, garlic and red pepper in the pan and heat over medium-low heat. When garlic slices turn brown, take them and red pepper from the pan and set aside. Add a ladleful of stock and simmer for a few minutes. Add tomatoes and cook for a while. It's better not to touch tomatoes. Add capers and gently mix. Toss pasta in the pan. Sprinkle salt and taste to adjust. Serve in a plate and put fried garlic and red pepper on it.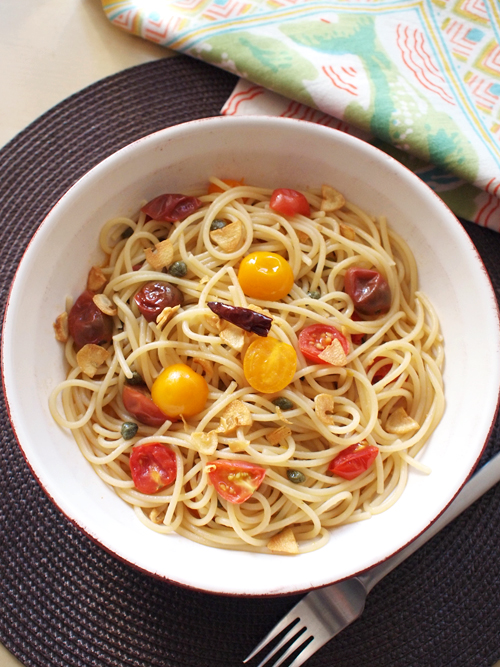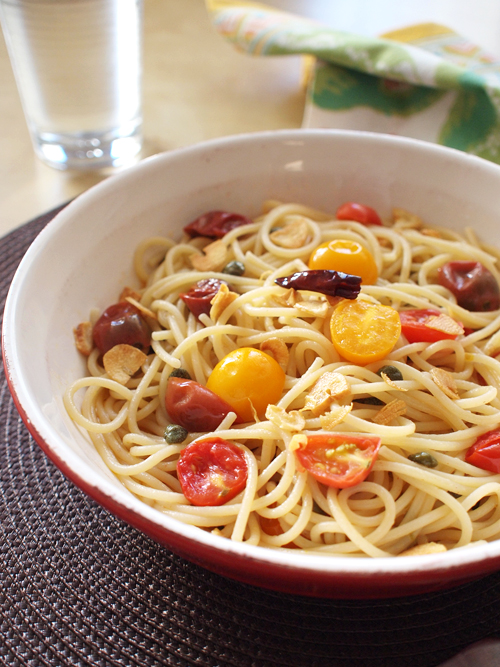 な〜んにもしたくない時にはパスタを茹でて、ピンクソルトとコショウ、パルメザンチーズをふりかけるだけの料理とも呼べないものを作ったりします。そのやる気なしのスパゲッティも悪くはないんですが、さすがに毎日食べる訳にはいきません。そこまでぐうたらになるのもな・・・と思うと。
なので、ぐうたらの、ぐうたらによる、ぐうたらのためのスパゲッティを作りました。
覚え書き
[ 一人分の材料 ]
スパゲッティ
ミニトマト 10コ – 12コ (半分に切る)
ケーパー 大さじ 1
ニンニク 1コ (スライス)
鷹の爪 1本
チキンスープストック (または野菜のスープストックかパスタのゆで汁)
オリーブオイル 大さじ1
[ 作り方 ]
お湯をわかして、パスタを茹でる。そのかたわらでソースを作ります。オリーブオイルをフライパンに入れてニンニクと鷹の爪を投入。中火より少し弱めでニンニクに火を通していく。ニンニクの色が薄い茶色になったところで鷹の爪と一緒に取り出す。おたま1杯分のチキンスープストックを入れる。ふつふつとしてきたら、トマトを入れてなじませていく。トマトはできるだけ触らずに。ケーパーを入れて軽く混ぜる。茹でたパスタをフライパンに入れてソースと混ぜる。塩で味をつける。お皿に盛って、最後にカリカリのニンニクと鷹の爪を飾って出来上がり。
それなりのパスタにはなりました。
---