Posted:
November 10th, 2010 |
Author:
junko
|
Filed under:
cooking
|
6 Comments »
I love "Don" style food. "Don" is an abbreviation for "Donburi" and means "rice bowl dish". There are a lot of different kind of "Dons". Tamago Don(egg), Oyako Don(chicken & egg), Katsu Don(pork cutlet), Ten Don(tempura), Yakiniku Don(BBQ), etc…
Today's "Don" is Korean Bibimbap Don. Ta-dahhh!
It has spinach namul, daikon radish namul, soybean sprout namul, sauteed carrot and ground pork flavored with miso sauce. Oh, I can't forget a poached egg.
Korean food has lots of colors which give me a big appetite. Colors are a very important element for food.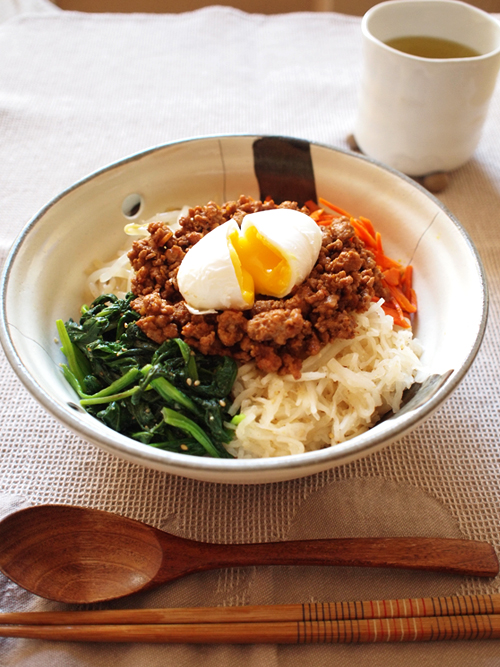 私は丼ものが大好きです。玉子丼、親子丼、カツ丼、天丼、焼き肉丼、鉄火丼、海鮮丼・・・。
ああ、きりがありません。
今日のはビビンバ丼です。
ほうれん草のナムル、大根のナムル、もやしのナムル、炒めたニンジン、肉味噌。それからポーチドエッグも忘れずに。本当は生卵を落としたい所だけど・・・。
韓国料理は色が鮮やかで食欲倍増です。食べ物の色っていうのは大事ですね。
---