Posted:
November 14th, 2010 |
Author:
junko
|
Filed under:
desserts & pastries
|
2 Comments »
Sometimes it's difficult to find proper names for food and deserts in a different language. The names we use in Japan don't have the same meaning in English. "Sweet potatoes" is one of them. In Japan, when we say "Sweet Potatoes" it means desert. Here it's used to refer to the potatoes themselves.
Today I made "Sweet Potatoes" with sweet purple potatoes. For your information, I didn't use any artificial food colors. The purple color is from potatoes. Beautiful, isn't it?
NOTES
[ ingredients for about 10 pieces ]
sweet purple potatoes about 1.2lb
butter 1.4oz
brown sugar 2Tbs (depending on how sweet the potatoes are)
heavy cream 3Tbs
egg yolk 1
salt pinch
egg 1 (for brushing)
[ how to do it ]
Peel and slice the potatoes in about half inch thick and wash them a few times. Cook them in hot water until they get soft. Drain water and mash. Put them back to the pan. Don't heat yet. Add butter, sugar, heavy cream, salt and mix well. Taste and adjust the sweetness. Break the egg yolk and add to it and mix. Heat over very low heat and keep mixing until it gets thick enough for making shapes. Remove from the heat. Shape the potato mixture into balls, ovals or anything you like and place them on the baking pan with parchment paper. Brush egg on top. Bake them in a oven at 356°F for 20 – 25 minutes.
*Please be careful when you shape. Cool the potato mixture slightly. Don't get burned!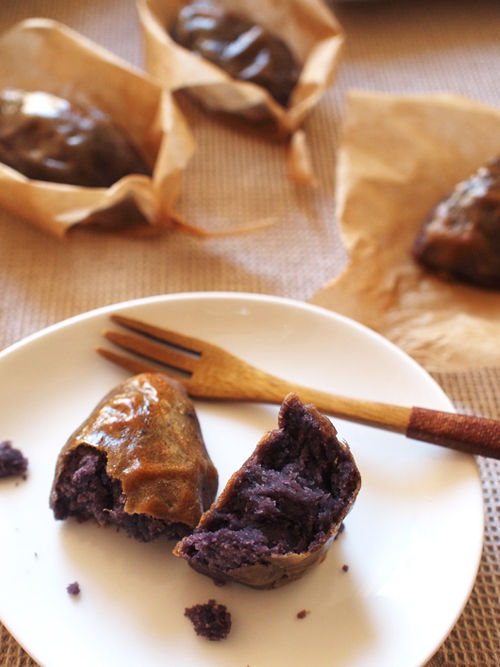 『スイートポテト』は英語では通常サツマイモのことをいうので、うちのクマさんに作ったスイートポテトを見せて「これ英語で何?」って聞いたら「う〜ん。」と考え込んでしまいました。あれかな、これかなといろいろ言ってみるものの、どれもこれもピンとこないので「スイートポテトでいいじゃん。」ということで決着。
いつものサツマイモじゃなくて、『OKINAWA スイートポテト』と書いてあった紫芋を使ってみました。これまではスーパーで紫芋は横目でちらっと見て通り過ぎるだけだったんだけど、今回は紫に手が伸びた。色がキレイ!やっぱり自然の色だからだな。すごくキレイな紫。そういえば実家のある街で美味しい紫芋のモンブランを売っている店があったなぁ。とこういうことを考えると今度はソレが食べたくなります。
覚え書き
[ 材料 (約10個分) ]
紫芋 550g
バター 40g
ブラウンシュガー 大さじ2 (芋の甘さにより調節)
生クリーム 大さじ3
卵黄 1コ分
塩 ひとつまみ
卵 1コ (刷毛で塗る用)
[ 作り方 ]
芋の皮を剥き1.5センチ幅でスライスをして数回洗う。柔らかくなるまで茹でる。 湯をきって芋をつぶす。鍋に戻してバター、ブラウンシュガー、生クリーム、塩を入れてよく混ぜる(まだ火にはかけません)。味をみて甘さを調節する。卵黄をほぐして入れ、再度よく混ぜる。 弱火にかけて形を作れるくらいまでの固さになるまで絶えず混ぜる。火からおろす。ベーキングシートをひいた上に形を作ってのせる。形は丸でも楕円でも好きな形で。刷毛で卵を表面に塗る。180℃で20分から25分焼く。
*形を作るときは生地を少しさましてからにして、やけどをしないように気をつけてください。
---