Posted:
December 2nd, 2010 |
Author:
junko
|
Filed under:
baking
,
desserts & pastries
|
31 Comments »
I love many different types of beautiful, gorgeous, rich cakes. When I am in bakeries, I can't stop looking at them, not just looking more like "investigating". The taste, the shapes, the ingredients…YUM!
I used to work at a restaurant/bakery when I was a college student. In my hometown, that place was very famous for its cakes. The cakes amused my eyes everyday. Chocolate cakes, rich cream cakes, pies, cheese cakes…
Today I decided to make "Cheesecake Soufflé".
UPDATE on Dec 5th
NOTES
[ ingredients for 18cm(about 7in. cake pan) ]
cream cheese 300g (10.6 oz)
sugar 40g (1.4 oz)
sour cream 200ml
vanilla extract 1/2tsp
egg yolk 3
corn starch 50g (1.8 oz)
lemon juice 1 Tbs
egg white 3
sugar 40g (1.4 oz, for meringue)
[ how to do it ]
Pre-heat oven to 320 °F
 
Making cream cheese mixture
1. Place parchment paper in the cake pan (both bottom and side).
2. Put cream cheese and sugar(40g) in the bowl and mix well.
3. Add sour cream into the mixture and whisk
4. Add egg yolk and mix well
5. Add cornstarch and whisk until the mixture get smooth
6. Add lemon juice and mix, then add vanilla extract and mix.
Making meringue
7. Put the egg white and 1/3 of total amount of sugar in the bowl and start to whip. After the egg white becomes foamy add another 1/3 of sugar and continue whipping. Add the final 1/3 of sugar and continue whipping until meringue becomes stiff and glossy.
8. Add 1/2 of amount of meringue into the cream cheese mixture and mix well.
9. Add the rest of meringue. Mix it gently. (Try NOT to squish the meringue foam.)
10. Pour the mixture into the cake pan. Find a baking tray big enough to put the cake pan inside of it. Pour hot water into the baking tray until it is about 3/4 full, then place the cake pan in it. Place the baking tray with hot water and the cake pan in the oven. Bake it for about 1 hour at 320 °F. (You might need to add extra hot water if the pan starts to dry up. Make sure the cake doesn't get dry.)
11. Let it cool in the cake pan at least for 4 – 5 hours.
Original recipe is from Seiko Ogawa's book "Pastries with Cheese"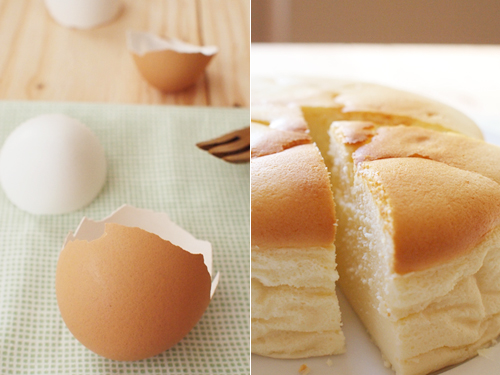 キレイでオシャレで美味しそうなケーキ・・・たまりませんよね。最近ではケーキ屋さんに行くとじーっと張り付いて見てしまいます。ただ見てるというよりも調査、研究といった感じで。味、形、材料・・・。
学生のころ、街ではそこそこ知れたレストラン兼ケーキ屋でアルバイトをしていたのですが、ケーキのある一角は賑やかな感じがしてちょっとしたウキウキ空間でした。最近のほどオシャレではなかったけど、チョコレートのケーキ、生クリームのケーキ、パイにチーズケーキ・・・。懐かしいなぁ。
今日は定番中の定番チーズスフレにしました。アメリカではNYスタイルが人気なんだろうけど、私はスフレ!
---