Posted:
February 3rd, 2011 |
Author:
junko
|
Filed under:
baking
,
desserts & pastries
|
8 Comments »
When I went back to Japan this winter, I saw a lot of creamy textured deserts everywhere. They are very popular in Japan now. Creamy textured cakes, donuts, etc… Of course, I tried one. It was good, but I usually prefer creamy and firm (not only creamy) texture. So it was not "WOW", but it's a good topic for girls' chat.
I made creamy creamy custard pudding. Again, I usually prefer "creamy and firm", but actually I love this creamy creamy! Not bad at all! Should try this out.
NOTES
[ ingredients ]
egg yolk 2
sugar 25g
heavy cream 140ml
milk 100ml
vanilla extract 1/2Tbs
[ how to do it ]
1. beat egg yolk and add sugar. whisk well until the mixture gets whitish yellow but not aerated
2. warm heavy cream and milk. pour into the mixture.
(keep mixing while pouring to avoid egg yolk being cooked.)
3. add vanilla extract.
4. strain the pudding mixture.
5. get oven safe glass jars or cocottes. pour caramel sauce first and then pour the pudding mixture gently.
6. Find a baking tray big enough to put the jars inside of it. Pour hot water into the baking tray until it is about 1/2 full, then place the jars in it. Place the baking tray with hot water and the jars in the oven. Bake it for about 40 minutes at 320 °F.
Cool them in the fridge for 3-4 hours to half day.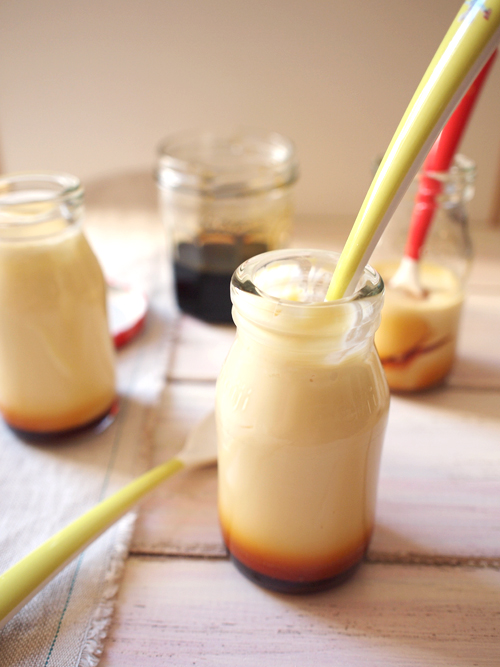 年末年始に日本へ帰った時、あちこちで目にして気になったもの。それは『とろとろ』とか『とろける』とか『半熟』のケーキ類。ドーナツにはちょっとびっくりしたけど。日本では流行っているんですね。試さない訳にはいかないので食べてみました、『半熟カステラ』。悪くはなかったけど、やっぱりしっかりしたオリジナルのカステラの方が好きだな。半熟ドーナツは食べてないけどあれはもうドーナツとは言わないような・・・。ドーナツ型のスイーツって言えばええのに。話のたねには悪くないですね。
私はわりとしっかりした、それでいて口当たりがよくてフワフワなものが好きです。というわけで大好きなプリンもしっかりしたプリン!なのですが、そのちょっと流行の『とろとろ』感ただようプリンを作ってみました。
悪くない、とろとろプリン!これはアリだな。
覚え書き
[ 材料 ]
卵黄 2コ
砂糖 25g
生クリーム 140ml
牛乳 100ml
バニラオイル 大さじ1/2
[ 作り方 ]
1. 卵黄をくずして砂糖を入れ白っぽくなるまですりまぜる。
2. 生クリームと牛乳を火にかけ暖まったら卵黄とまぜる。
(卵黄がかたまらないように泡立て器でまぜながら入れていく。)
3. バニラオイルを入れてまぜる。
4. できたプリン液を濾す。
5. 容器にカラメルソースを入れてからプリン液を静かに流し入れる。
6. バットにお湯をはってその中に入れ、160℃で40分蒸し焼きにする。
冷蔵庫でよく冷やすとより美味しいです。
---