Posted:
February 14th, 2011 |
Author:
junko
|
Filed under:
baking
,
desserts & pastries
|
4 Comments »
Happy Valentine's Day!
When I came to the U.S. long time ago, I learned how Valentine's Day is celebrated here. It's different from the one I knew back home. On Feb 14th in Japan, girls give chocolates and presents to their boyfriends or boyfriends to be. Chocolate is a must. Girls get chocolate not only for their boyfriends, also for their co-workers, bosses, friends… They have to buy a lot of chocolates! I sometimes feel this event in Japan is some kind of conspiracy by the confectionery companies!!
This Valentine's Day, I didn't buy chocolates for my husband but made chocolate caramel chiffon cake with creamy icing on top.
Recipe update is coming soon.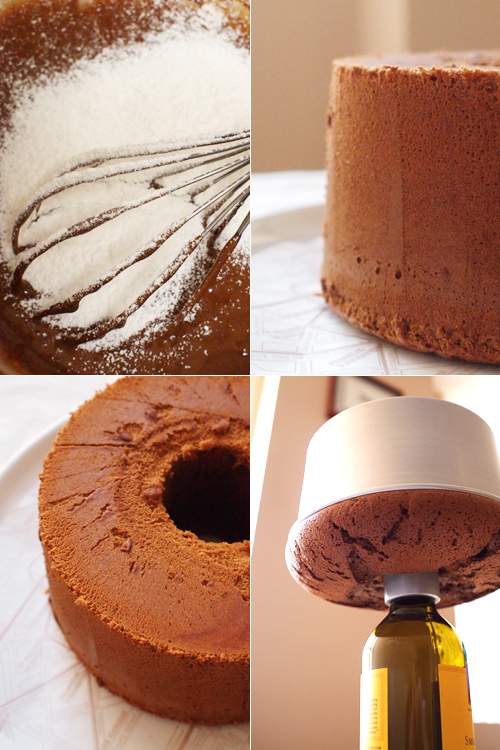 ハッピーバレンタイン〜!
初めてアメリカに留学で来た時、ちょうどバレンタインをまたいでいて、日本と少しそのあり方が違うことになるほどなぁと思いました。まさに日本におけるバレンタインはお菓子会社の陰謀じゃん!!といい歳をして知ったという・・・。とはいえ、それ以後もイベント事という感じでバレンタインにはチョコを買って配ってきたんですけどね。うちのクマさんに日本のバレンタインとホワイトデーのことを話したら「上手い商売するね〜。」と感心しておりました。
そのクマさん、チョコレートケーキが大好きなもんで、今日のバレンタイン用にチョコレートとキャラメルのシフォンを焼いて、周りに生クリームを塗りたくってみました。少し上が凹んだしゴージャスでもないけど、こういうのは気持ちですから。( ということにしておこう。 )
レシピは後ほど。
---