Posted:
March 10th, 2011 |
Author:
junko
|
Filed under:
cooking
,
shellfish
|
No Comments »
15 minutes cooking! This is a quick and yummy recipe for busy people. Perfect for dinner after a busy day at the office. I used shrimp, but you can use chicken, pork, or any vegetables you like!
NOTES
[ ingredients ]
shrimp 5 (remove the shells and vein. sprinkle salt and 1 Tbs sake)
asparagus 5 (cut into strips to 2 inches long)
artichoke hearts 4 (cut in halves)
garlic 1 (small piece, minced)
ginger 1 (about 5g, minced)
shallot 1 (small one, minced)
curry powder 2 tsp
coconut milk 150 ml
soy sauce 1 tsp
salt & pepper
rice 1.5 bowl
[ how to do it ]
heat 1.5 Tbs of oil, garlic and ginger over medium heat and stir to release the flavor. add shallot and stir for 2 minutes. add shrimp and fry until the color is slightly changed. remove the shrimp and set aside. stir fry asparagus and artichoke in the pan for 2 – 3 minutes. put the shrimp back into the pan. sprinkle curry powder and mix well. pour coconut milk and simmer for 3 minutes. add soy sauce. adjust the taste with salt and pepper. pour the curry over the rice.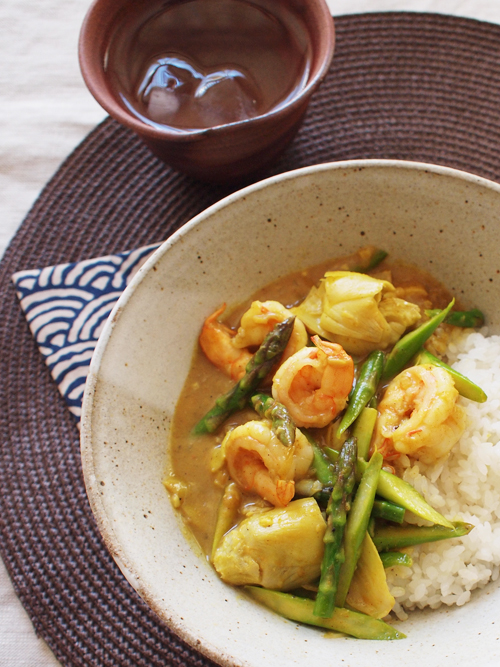 料理本なんかでよくありますが、15分クッキング!忙しくてあれこれ料理する暇ないとか、仕事から帰ってすぐ食べたい時なんかにいいココナッツカレーを作ってみました。今日は冷蔵庫にあったエビとアスパラガス、アーティチョークを使いましたが、材料は好きな物で。これがカレーのいいところ!
[ 材料 ]
エビ 5尾 (殻を剥いて、背わたをとっておく。塩をふり、酒大さじ1をかけてもんでおく)
アスパラガス 5本 (5cmくらいの食べやすい長さに切る)
アーティチョーク 4つ (縦に半分にきる)
にんにく 1かけ (小さいもの、みじん切り)
しょうが 1かけ (約5グラム, みじん切り)
エシャロット 1つ (小さいもの、みじん切り)
カレー粉 小さじ 2
ココナッツミルク 150 ml
しょうゆ 小さじ 1
塩、こしょう 適宜
ご飯 茶碗1杯半
[ 作り方 ]
油大さじ1.5、にんにく、しょうがを中火にかけて香りを出す。エシャロットを加えて2分ほど炒める。エビを入れ色がうっすらと変わった所で取り出す。アスパラガスとアーティチョークをいれ2−3分炒める。エビを戻し入れ、カレー粉を全体に行き渡るようにふる。ココナッツミルクを入れて3分煮る。しょうゆを加え、塩こしょうで味を整える。ご飯にかけて出来上がり。
---