Posted:
November 29th, 2010 |
Author:
junko
|
Filed under:
pasta/noodle
,
shellfish
,
veggies
|
8 Comments »
It's been cold since last week. In this cold weather, I need coffee, tea and noodle soup!
Since I was very little, I have been a big noodle lover. I used to eat udon noodle for breakfast everyday, every single day!
When I came to California to live, finding the yummy noodle places became one of my hobbies. I have my favorite restaurants, but I am still working on finding them. If you know the yummy noodle restaurants, please let me know!!
I don't do "every morning noodle" anymore, but I made noodle soup with shrimp and vegetable for lunch today.
NOTES
[ ingredients ]
napa cabbage 5 – 7 leaves (stem part: cut into 2 inch long sticks, leaf part: 2 inches long)
carrot 2 inches long (cut it into sticks)
ginger 1 thumb sized (cut it into very thin sticks) 
edamame 2 Tbs 
shrimp 4 (remove the shells) 
dried shiitake mushroom 1
chinese style noodle (if it's dried one, cook as directed)
chicken/vegetable stock 2 cups
sake (1Tbs), soy sauce (1tsp), oyster sauce (1/2tsp), salt, pepper
UPDATE on Dec. 1
[ how to do it ]
Stir fly ginger with sesame oil to release the flavor. Add stem part of cabbage and carrot and stir for 1 min. Add shrimp. Sprinkle sake. When shrimp's color changes, take them out and set aside. Pour chicken broth/vegetable broth and cook to boil. Break the dried shiitake mushrooms into small pieces and add to the pan. Cook for a few minutes. Season with soy sauce, cooking sake, oyster sauce, salt and pepper. Add cabbage leaves and noodles, and cook it until they are just right.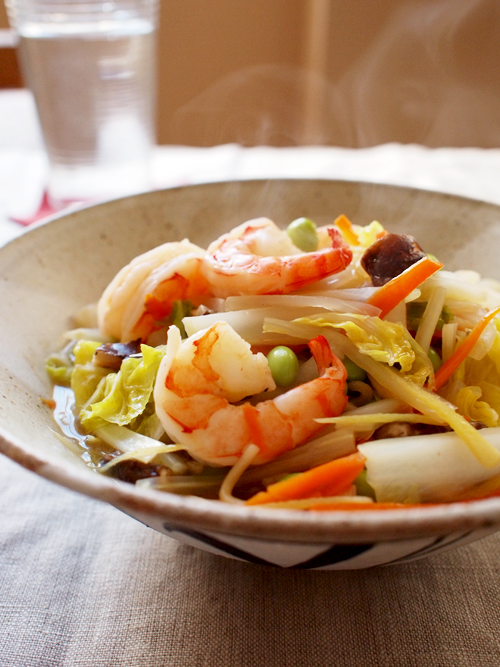 随分寒くなってきましたが、こう寒くなると絶対に欠かせないのはコーヒー、お茶、それからうどんとかラーメンの暖かいつゆありの麺。
私は子供のころから大の麺好きで、小学生のときは毎朝うどんを食べて学校へ行ったもんです。母も毎日うどんを作りながら、「好きやね〜。」と半ば呆れ顔で。
カリフォルニアに来た時に何が嬉しかったかというと、いろんな国のいろんな麺が食べれることでした。「あそこのは美味いぞ!」と聞けば行ったりしてお気に入りのお店も何軒かあります。そこで美味しいと思うと同じものばっかり食べて、他のメニューに手を出せずにいるのが麺LOVERとしては失格ではありますが・・・。さらに美味しい所を求めてさすらい中〜。
さすがに『毎朝麺』は最近してませんが、今日はお昼ご飯にエビと野菜のスープ麺です。
覚え書き
[ 材料 ]
白菜
ニンジン
ショウガ 
枝豆 
エビ 
干し椎茸
中華麺
チキンまたはベジタブルスープストック
酒、醤油、オイスターソース、 塩、こしょう
---