Posted:
September 14th, 2010 |
Author:
junko
|
Filed under:
cooking
,
soup
|
No Comments »
It's a GOBO day!
The other day, I was coming back home from the supermarket.
I bought a pack of gobos that day. Usually gobo bags are pretty long and they stick out from the shopping bags. Anyway, I bought it and was walking with the shopping bag which had a gobo bag sticking out. I saw some people looking at my gobo bag as if they were saying "What the heck is that??"
Although Asian food has become very popular and we can get Asian ingredients easily, still there are some unfamiliar things for people here. This "what the heck" vegetable is one of them. But it has pretty good veggie UMAMI and it goes well with other veggies or meat stuff. But still needs some time to become popular…I think.
Today I made potage soup with gobo. And put some gobo chips on top as garnish.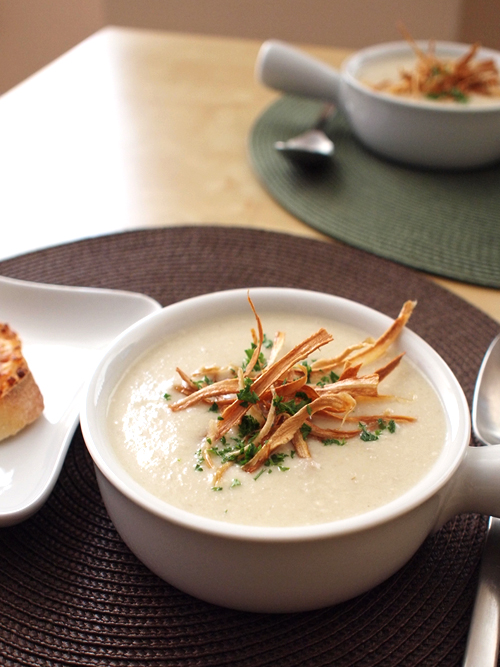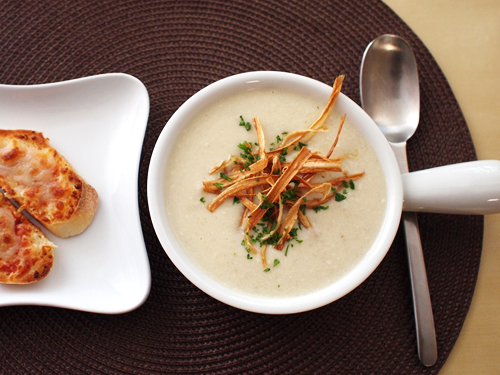 アメリカでも日本を含めアジア各国の料理が浸透してきたとはいえ、「何だそれ?」な目で見られてるなと思うものもまだまだあります。ゴボウもその一つだろうな。
ゴボウって長くて買い物バッグから飛び出してしまうけど、バキッと折るのもなぁと思って、いつもそのまま飛び出したのをぶらぶらさせながら、ぶらぶら歩いて帰ってくるわけです。すると必ずと言っていいほど、ゴボウに目が釘付けになってしまう人々とすれ違います。まさに「何だそれ??」の目。君たちが「何だそれ?」って思っているこの棒のような野菜、美味しいんだよ〜と言いたいのをぐっと押さえてまたぶらぶら・・・。ゴボウがポピュラーになるにはもう少し時間がかかりそうですね。
で、今日はそのゴボウでポタージュを作って、さらにゴボウチップを飾って昼飯。
あ〜、そこはかとなく広がるゴボウの風味。もっと脚光を浴びてもいいんじゃないのかい、ゴボウは!がんばれ、ゴボウ!!
---